STACKING THE SHELVES (5)
Hello people of the bookish world!!! This has been such a hectic week for me since I moved to London (you can find out more about that
here
) but thankfully books made it all worth it! As usual click the covers to get redirected to the respective Goodreads page!
My first trip to the bookshop
On Netgalley, I managed to get an ARC of Alexandra Bracken's new MG book!!!! I'm starting tomorrow hopefully!
"I would say it's a pleasure to meet thee, Prosperity Oceanus Redding, but truly, I only anticipate the delights of destroying thy happiness."
Prosper is the only unexceptional Redding in his old and storied family history — that is, until he discovers the demon living inside him. Turns out Prosper's great-great-great-great-great-something grandfather made — and then broke — a contract with a malefactor, a demon who exchanges fortune for eternal servitude. And, weirdly enough, four-thousand-year-old Alastor isn't exactly the forgiving type.

The fiend has reawakened with one purpose — to destroy the family whose success he ensured and who then betrayed him. With only days to break the curse and banish Alastor back to the demon realm, Prosper is playing unwilling host to the fiend, who delights in tormenting him with nasty insults and constant attempts trick him into a contract. Yeah, Prosper will take his future without a side of eternal servitude, thanks.
Little does Prosper know, the malefactor's control over his body grows stronger with each passing night, and there's a lot Alastor isn't telling his dim-witted (but admittedly strong-willed) human host.

From #1 New York Times best-selling author Alexandra Bracken comes a tale of betrayal and revenge, of old hurts passed down from generation to generation. Can you ever fully right a wrong, ever truly escape your history? Or will Prosper and Alastor be doomed to repeat it?
A collection of Entangled Teen ARC's just streamed into my inbox and I'm so so excited to get to it!
Reality is only an illusion.
Except for those who can control it…
Worst. Birthday. Ever.
My first boyfriend dumped me—happy birthday, Josie!—my dad is who knows where, I have some weird virus that makes me want to hurl, and now my ex is licking another girl's tonsils. Oh, and I'm officially the same age as my brother was when he died. Yeah, today is about as fun-filled as the swamps of Dagobah. But then weird things start happening…
Like I make something materialize just by thinking about it.
When hottily-hot badass Reid Wentworth shows up on a motorcycle, everything changes. Like, everything. Who I am. My family. What really happened to my brother. Existence. I am Oculi, and I have the ability to change reality with my thoughts. Now Reid, in all his hotness, is charged with guiding and protecting me as I begin learning how to bend reality. And he's the only thing standing between me and the secret organization that wants me dead…
The highly anticipated sequel to Anomaly will be released the summer of 2017!
Worst. Road Trip. Ever.
Escaping with Reid Wentworth should have been fun, but how can I enjoy it when I just (accidentally) killed someone, my mom and brother are in danger, and the Consortium is trying to enslave humanity? (Yeah, they aren't fooling around.) So feeling something for Reid Wentworth was not part of the plan. Trying to help unite the Resistance against the Consortium means I can't be distracted by hot boys.
The Resistance secret hideout isn't exactly the rebel base of my dreams. A traitor there wants me dead, but we have no idea who it is. And with both the Resistance and the Consortium trying to control me, the only one I can trust is Reid. If we're going to have any chance of protecting my family, controlling my unstable powers, and surviving the clash between the Oculi factions, I'm going to have to catch this traitor. By using myself as bait.
Nobody said being the daughter of an army general was easy. But when her dad sends a teenage subordinate to babysit her while he's away… That's taking it a step too far.
Cade, as beautiful as he is deadly, watches Kori with more than just interest. He looks at her like he knows her very soul. And when he saves her from a seemingly random attack, well, that's when things get weird.
Turns out, Kori's dad isn't just an army general—he's the head of a secret government project that has invented a way to travel between parallel dimensions. Dimensions where there are infinite Koris, infinite Cades…and apparently, on every other Earth, they're madly in love.
Falling for a soldier is the last thing on Kori's mind. Especially when she finds herself in a deadly crossfire, and someone from another Earth is hell-bent on revenge…
The second book in the Infinity time travel series is full of action, romance, and an intricately designed roller coaster plot.
One mistake can change everything. Ashlyn Calvert finds that out the hard way when a bad decision leads to the death of her best friend, Noah Anderson.
Only Noah isn't really gone. Thanks to his parents' company, the Infinity Division, there is a version of him skipping from one dimension to another, set on revenge for the death of his sister, Kori. When a chance encounter brings him face-to-face with Ash, he's determined to resist the magnetic pull he's felt for her time and time again. Because falling for Ash puts his mission—and their lives—in danger.
And I ordered a few books for myself with my first bank card because it was just begging to be baptised. And what better way than with books?
So I've been hearing so much about Roar and the trailor looks amazing!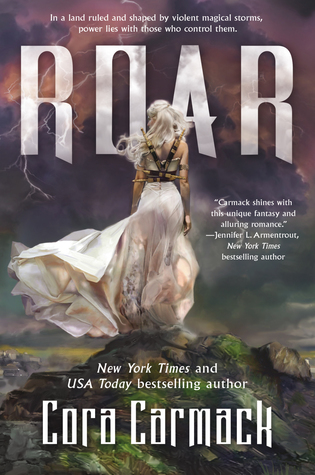 In a land ruled and shaped by violent magical storms, power lies with those who control them.
Aurora Pavan comes from one of the oldest Stormling families in existence. Long ago, the ungifted pledged fealty and service to her family in exchange for safe haven, and a kingdom was carved out from the wildlands and sustained by magic capable of repelling the world's deadliest foes. As the sole heir of Pavan, Aurora's been groomed to be the perfect queen. She's intelligent and brave and honorable. But she's yet to show any trace of the magic she'll need to protect her people.
To keep her secret and save her crown, Aurora's mother arranges for her to marry a dark and brooding Stormling prince from another kingdom. At first, the prince seems like the perfect solution to all her problems. He'll guarantee her spot as the next queen and be the champion her people need to remain safe. But the more secrets Aurora uncovers about him, the more a future with him frightens her. When she dons a disguise and sneaks out of the palace one night to spy on him, she stumbles upon a black market dealing in the very thing she lacks—storm magic. And the people selling it? They're not Stormlings. They're storm hunters.
Legend says that her ancestors first gained their magic by facing a storm and stealing part of its essence. And when a handsome young storm hunter reveals he was born without magic, but possesses it now, Aurora realizes there's a third option for her future besides ruin or marriage.

She might not have magic now, but she can steal it if she's brave enough.

Challenge a tempest. Survive it. And you become its master.
Jack the ripper
Seventeen-year-old Audrey Rose Wadsworth was born a lord's daughter, with a life of wealth and privilege stretched out before her. But between the social teas and silk dress fittings, she leads a forbidden secret life.
Against her stern father's wishes and society's expectations, Audrey often slips away to her uncle's laboratory to study the gruesome practice of forensic medicine. When her work on a string of savagely killed corpses drags Audrey into the investigation of a serial murderer, her search for answers brings her close to her own sheltered world.
The US edition of Strange the Dreamer cause it's shiny! And the UK hardback version is just plain blue without the dust jacket whereas I think the US edition has an engraving.
The dream chooses the dreamer, not the other way around—and Lazlo Strange, war orphan and junior librarian, has always feared that his dream chose poorly. Since he was five years old he's been obsessed with the mythic lost city of Weep, but it would take someone bolder than he to cross half the world in search of it. Then a stunning opportunity presents itself, in the person of a hero called the Godslayer and a band of legendary warriors, and he has to seize his chance or lose his dream forever.
What happened in Weep two hundred years ago to cut it off from the rest of the world? What exactly did the Godslayer slay that went by the name of god? And what is the mysterious problem he now seeks help in solving?
The answers await in Weep, but so do more mysteries—including the blue-skinned goddess who appears in Lazlo's dreams. How did he dream her before he knew she existed? And if all the gods are dead, why does she seem so real?
Welcome to Weep.
Caraval I needed to get because the hardcover IS ONLY £5!!! LESS THAN THE PAPERBACK! it's not the version I wanted but I couldn't pass it up!
Whatever you've heard about Caraval, it doesn't compare to the reality. It's more than just a game or a performance. It's the closest you'll ever find to magic in this world . . .

Welcome, welcome to Caraval―Stephanie Garber's sweeping tale of two sisters who escape their ruthless father when they enter the dangerous intrigue of a legendary game.
Scarlett has never left the tiny island where she and her beloved sister, Tella, live with their powerful, and cruel, father. Now Scarlett's father has arranged a marriage for her, and Scarlett thinks her dreams of seeing Caraval, the far-away, once-a-year performance where the audience participates in the show, are over.
But this year, Scarlett's long-dreamt of invitation finally arrives. With the help of a mysterious sailor, Tella whisks Scarlett away to the show. Only, as soon as they arrive, Tella is kidnapped by Caraval's mastermind organizer, Legend. It turns out that this season's Caraval revolves around Tella, and whoever finds her first is the winner.
Scarlett has been told that everything that happens during Caraval is only an elaborate performance. But she nevertheless becomes enmeshed in a game of love, heartbreak, and magic with the other players in the game. And whether Caraval is real or not, she must find Tella before the five nights of the game are over, a dangerous domino effect of consequences is set off, and her sister disappears forever.
Then I got dividing Eden! I saw this book on Goodreads a couple of weeks ago and it really caught my interest. I totally forgot about it but when I was scrolling through books on Book Depo it came up and I just had to get it!
From the author of the New York Times bestselling Testing trilogy comes a sweeping new fantasy series, perfect for fans of Victoria Aveyard and Sarah J. Maas.
Twins Carys and Andreus were never destined to rule Eden. With their older brother next in line to inherit the throne, the future of the kingdom was secure.
But appearances—and rivals—can be deceiving. When Eden's king and crown prince are killed by assassins, Eden desperately needs a monarch, but the line of succession is no longer clear. With a ruling council scheming to gain power, Carys and Andreus are faced with only one option—to take part in a Trial of Succession that will determine which one of them is worthy of ruling the kingdom.
As sister and brother, Carys and Andreus have always kept each other safe—from their secrets, from the court, and from the monsters lurking in the mountains beyond the kingdom's wall. But the Trial of Succession will test the bonds of trust and family.
With their country and their hearts divided, Carys and Andreus will discover exactly what each will do to win the crown. How long before suspicion takes hold and the thirst for power leads to the ultimate betrayal?
That's it for me! Hope everyone had a lovely week :D